The above image (courtesy of The Seattle Times) is a view of where the St. Vincent de Paul Salvage Bureau was located at
South Lake Union. This is the site prior to the Salvage bureau being built!
The photo image on the front page of our svdpseattle.org website is a view from First & Battery looking to the South---which is now part of Belltown. Photo Courtesy of PEMCO Webster & Stevens Collection. Museum of History & Industry.
We are pleased to share with you the Centennial Mass Homily On Sunday, Sept. 27, 2020 by Archbishop Etienne at St. James Cathedral. The second video is a presentation made by SVdP Executive Director, Mirya Muñoz Roach at the Centennial Mass.
We trust you will enjoy the articles in NW Catholic Magazine and the Seattle Times. Here are the links to the articles:
We are excited to have you join us in celebrating our 100 years of service to Seattle and King County! Please Consider Making a Special Gift of $100 In honor of the St. Vincent de Paul Centennial!
As a way of getting started to learn more about St. Vincent de Paul and its beginnings here in Seattle, listen to a very special 30-minute podcast here done by our Communications Director Jim McFarland. Itis loaded with facts, figures, key dates and more. We hope you enjoy this special podcast!
St. Vincent de Paul (SVdP), one of the oldest and most respected non-profit charities in Western Washington, is celebrating 100 years of service throughout all of 2020.
The organization got its start in the Wallingford neighborhood when a young man from Chicago, Charles Albert, formed a St. Vincent de Paul neighborhood volunteer group at St. Benedict Catholic Church on January 26, 1920. SVdP is still very active in the St. Benedict Parish and has volunteer groups at over 50 locations in King County.
There was a lot of need in January of 1920 when Chicagoan Charlie Albert started St. Vincent de Paul here in Washington State at St. Benedict Parish in North Seattle. Moreover, in many ways the times have not changed --- there is a lot of need today---particularly as communities grow and living expenses climb.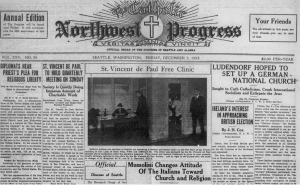 Having people lend a hand in service to neighbors is the "core" of what we do.
That is how Frederic Ozanam started the Society of St. Vincent de Paul in 1833 and that is how we began functioning here in Seattle in 1920.
That is how our organization operates today, with neighborhood volunteer chapters (we call them Conferences), as well as program volunteers, providing services to neighbors.
We have all kinds of volunteer opportunities available at Centro Rendu, our Hispanic outreach program in South King County; the Georgetown Food Bank; our five thrift stores; the warehouse; administrative offices and more.
As part of our Centennial Celebration, have selected a very special way to keep our collective hearts ablaze with the spirit of helping our neighbors. We call it the Centennial Hearts Ablaze Torch. This physical symbol of our spiritual zeal for our mission of love and charity was blessed and set aflame at our Centennial Kick-Off Mass at St. Benedict's on Sunday, January 26, 2020 by Father Bryan Dolejsi.
This is a photo of our Four Founders and the Hearts Ablaze Torch!
The torch will be moved around King County by our seven precinct leaders between now and Sept. 27, 2020 at a Mass honoring St. Vincent de Paul. The torch will be permanently housed at our main office in Georgetown as a symbolic reminder of the mission of the Society of St. Vincent de Paul!
We will begin updating this page to encourage you to join us in this very exciting Centennial year!