Our Warehouse Operation group has been functioning for decades, and it is increasing in value and popularity as we become more interested in reuse, recycling and sustainability issues. St. Vincent de Paul of Seattle|King County has been in the recycling, reuse and renewal business for over 85 years. We started our agency in North Seattle in 1920 and began our recycling programs in 1926 when we opened the St. Vincent de Paul Salvage Bureau facility.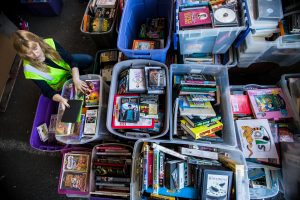 The Salvage Bureau evolved into a store, which has grown to five thrift stores that today generate over a million dollars annually towards funding our important work of helping our needy neighbors.
During the Depression, funds from the Salvage Bureau went toward paying for food, clothing, furnishings, rent, furniture, heating fuel, and hospital costs for our neighbors in need.  In 1964, the Salvage Bureau was an integral part of the effort to clean up Lake Union, which had become polluted and filled with trash.
Early on, we understood that paying attention to reuse and recycling was both good for business, and good for the community. We also learned that becoming better stewards of the world around us had the potential to help save our precious supplies of energy and to reduce our carbon footprint.
Reuse reduces the costs of making, shipping, and selling the things we surround ourselves with every day. Reuse helps reduce the tons of items that end up in garbage dumps and landfills. Finally, reuse decreases the demand for goods that are environmentally damaging to produce.
Annually we process 80,000 pounds of cardboard, ten tons of paper, 206,000 pounds of metal, about 168,000 pounds of electronics, close to 419 tons of clothing, 300,000 pounds of books, 732,000 pounds of shoes and 24,000 pounds of toys.
Much of this is sold at our five thrift stores in King County and much of the remaining items are recycled. We have a number who work forty hours a week sorting and evaluating items for sale, recycling and/or garbage. This centralized approach is cost-effective and efficient.
The SVDP Helpline
Our Helpline assists people who need help with basic needs such as Food, Clothing, Rent, Utilities, etc.
Volunteer With Us
Having people lend a hand in service to neighbors is the "core" of what we do.
Shop at Our eBay Store!
Browse through our 2,400 items of clothing, jewelry, shoes, accessories and more!