Sign up to stay connected!
Help Request Form
St. Vincent de Paul Helpline assists people who need help. Please note this form is for new help requests only.
Furniture Donation Form
Gently used clothes, household items, or a piece of furniture can help people change their lives.
Volunteer With Us
Having people lend a hand in service to neighbors is the "core" of what we do.
Shop at Our eBay Store!
Browse through our 2,400 items of clothing, jewelry, shoes, accessories and more!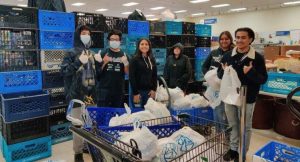 A few weeks ago, I gathered with our Latinx Centro Rendu program staff for a retreat.  It was a morning of reflection, unpacking, off-loading, and…
Read More
St. Vincent de Paul home visits help people recognize they have self-worth. Our work is about preservation of families, listening to them, holding them together and affirming their human dignity.
of every dollar donated supports SVdP programs
Data for Fiscal Year 2018--Oct. 1, 2017, through Sept. 30, 2018, indicated by an * asterisk. Data with a double ** asterisk is from Fiscal Year 2019, Oct. 1, 2018 through Sept. 30, 2019