Centennial History Timeline: 1920 to 2020!
Centennial: History & Timeline
1920s & 1930s
Four Seattle conferences started by Feb. 1921-- St. Alphonsus, St. James, Blessed Sacrament & Immaculate Conception.
More started in 1920s -- Holy Family, Holy Rosary, Sacred Heart, St. Edward, St. George, St. Anne, Christ the King, St. John, St. Joseph, St. Margaret and St. Francis Xavier.
First SVdP Thrift Store opened at First & Battery in Seattle in April 1926.
On Sept. 19, 1931, SVdP opened a Food Depot to centralize all food donations to help families receiving aid from conferences.
By 1936, there was an active SVdP conference in every parish in Seattle.
1940s & 1950s
In early 1950s--SVdP historian says, We know a good many cases where a little kindness has changed a man or woman considerably. This analysis has not changed much in the past 50 years."
Seattle Council had 30 conferences by 1945
In the 1940s, SVdP donated hundreds & hundreds of truckloads of furniture, radios, phonographs, and records to Armed Forces units all over Seattle.
Fire destroyed the SVdP Salvage Bureau at South Lake Union in 1945.
(Photo at left Courtesy Seattle Public Library).
1960s & 1970s
SVdP Invented the Bundle Sunday program in the early 1960s---park a truck at a parish parking lot and ask neighbors to bring donations. (The image below of the Space Needle, which was originally posted to Flickr, was uploaded to Commons using Flickr upload bot on 23 September 2011, 00:44 by Jmabel. This file is licensed under the Creative Commons Attribution 2.0 Generic license.
Frederic Ozanam's 150th birthday was celebrated in 1963.
Twenty-eight conferences were participating by the late 1960s.
Big Boeing layoff in 1970 shook Seattle & SVdP. Church organizations needed rummage sales to help parishioners---so thrift store sales suffered.
In May of 1977, SVdP Council approved the construction of a new store & office on Fairview at South Lake Union.
Many Seattle residents did not want to donate to thrift stores—they wanted the items to go help "neighbors in need." (Photo below courtesy of the Museum of History & Industry).
1980s & 1990s
Women finally allowed to join SVdP in 1980, after amendments to Council Bylaws.
SVdP celebrated 150 years of worldwide service in 1983.
Pat Meehan became the first female Council President in 1986.
The South Lake Union Salvage Bureau closes in 1990---after 45 years there.
By 1993, Council was referring 13,000 calls for assistance to Conferences.
In 1993 Council held its first-ever Capital Campaign to buy an acre of property at 5950 4th Ave. So.
Campaign was completed & renovation of space at 5950 4th Ave. So started in Dec. 1993.
Grand opening of new space Oct. 1994.
Named Seattle's Outstanding Human Service organization of the year in 1994.
2000 & 2019
By the end of the 1990s, over 80% of the people served by SVdP were non-Catholic.
Council now has over 50 active Conferences in Seattle & King County.
Changed name to Society of St. Vincent de Paul Council of Seattle King County in 2003.
SVdP reinvented itself many times between 2000 and 2019.
Five executive directors managed the Council between 1995 & 2007. Two Council Presidents—Jim Gauntt (St. Luke--Right in Photo) & John Morford (Blessed Sacrament--Left in Photo) made major management contributions to the Council between 2009 & 2019.
SVdP property now worth over $13 million.
Council's first Strategic Plan approved in 2010.
SVdP National Convention held in Seattle in 2012.
SVdP Helpline now receives 40,000 calls & 10,000 online Help Requests annually.
Started Centro Rendu program in 2013 to serve Latino & Hispanic families in South King County.
In 2003, Council budget had $400,000 in grant & donor revenue—grew to $500,000 in 2010 & to $1.3 million in 2013. Projection at $2.4 million for 2019!
Major Accomplishments
Development of the Centro Rendu Program in South King County
Centro Rendu was created to provide support systems for Hispanic immigrant families through education, leadership development, and opportunities that promote and strengthen healthier communities and future generations.
Designed empowerment programs through Education, Leadership Opportunities, and a culturally responsive Case Management Program.
Spanish Speaking SVdP Conference Support, (home visits to assist with emergency help and rent & utilities).
Spanish Language and English GED Training and employment services.
Hispanic Advisory Team monthly community meetings at Centro Rendu with Latino leaders & service providers to build community & capacity, while working with other Community Partners – to leverage resources in service to the community
Developed the DeColores Program – Home-based services & readiness for families with children 0-5.
Created Re-Route – Gang prevention/Latino at-risk youth and family support program.
Developed a strong relationship with the Mexican Consulate---partnership for literacy programs, primary and secondary certificate completion.
Evolution of Case Management Work
SVdP now has 11 Case managers on staff---compared to none in 2009. Number projected to increase in 2020!
Effectiveness of Case Management based on--attitude of mutuality & timely, direct, & accurate communication with Vincentians in referring a neighbor to the program.
Case Managers have capacity to be source of support, insight, & guidance to Vincentians as they respond to the complicated needs of our neighbors.
SVdP works closely with Vincentians in these relationships—helping neighbors.
(The photo above: Dan DeLong).
The SVdP Georgetown Food Bank
Council Food Bank became part of SVdP--Jan. 15, 2001---SVdP merged with Georgetown Service Center, the organization managing what was then ---Georgetown Food Bank.
Terms of the merger--management of the food bank became the responsibility of SVdP at 5950 Fourth Ave. So. Seattle.
Georgetown Food Bank now offers a broad array of services including food distribution, free clothing, free books, health assessments and more.
The Georgetown Food Bank is also offers a major learning program to elementary, middle school, and high school students regarding the value of helping neighbors and treating all people with dignity and respect.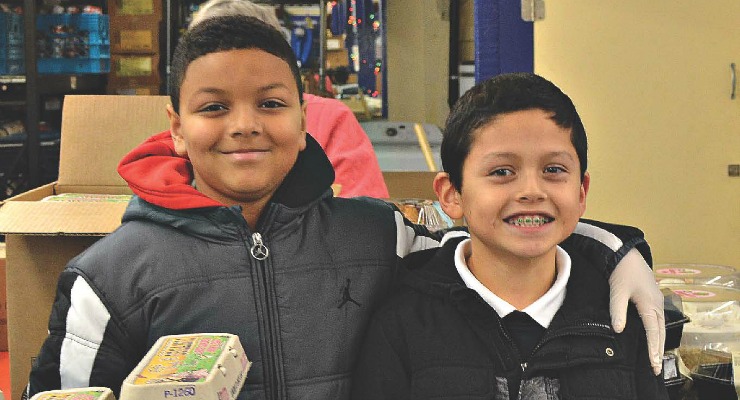 Neighborhood Conference Accountability
Best Practices & Adequate Funding Grants (AFG) for Conferences introduced in 2012-2013. Conferences received over $575,000 in AFG funding since 2014.
Active Vincentians grew to over 1,000 by 2018.
Council now hosts over 25 retreats, training sessions & formation gatherings per year.
Responding to Seattle & King County Homeless Crisis
We are guided by this simple reality:
"The most effective way to reduce homelessness is to prevent people from becoming homeless in the first place. This may sound obvious." David Bley| The Bill & Melinda Gates Foundation.-
SVdP has joined with the City of Seattle and King County by forming a coalition & network of resources that reinforces their model of eviction prevention.
SVdP prevents thousands of evictions annually, they say: "By preventing one eviction and keeping one neighbor housed we save our tax paying citizens of our city and county over $40,000 a year. It is not only a wise investment but a humane response to our vulnerable brothers and sisters."