Community collaboration helps neighbor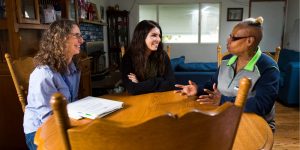 "Let us allow God to act; He brings things to completion when we least expect it." — St. Vincent de Paul 
Kris struggled to keep up with her rent and utilities on just her Social Security income and transportation assistance from family. She is disabled and has many health issues so keeping her power on was crucial to her survival. Kris was referred to St. Vincent de Paul's Case Management Team from Vincentian volunteers at St. Bernadette.  
She got help with rent and utilities, which included assistance from King County's Eviction Protection and Rent Assistance Program (EPRAP). The Case Management team also coached Kris on how to advocate for herself. Kris got connected with DSHS who was able to help with her medical issues and Catholic Community Services who helped her acquire more suitable, low-income housing. Now she doesn't have to worry about whether she'll be able to afford her power bill or not. With this burden lifted, Kris' overall health has seen some improvement and she's been able to acquire an electric wheelchair.  
 Click here to learn more about our Network of Care.  
 *Name changed to protect neighbor's privacy