SVdP Thrift Stores: Shop Where It Matters!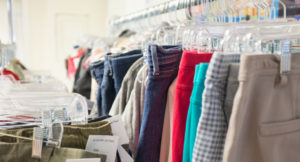 SVdP Thrift Stores are an important and essential part of our world. They are fundamental to our financial, public image, and client service strategies. We are thankful for the thousands of customers that visit and purchase items from us every month.
Our stores are part of the "reuse wave" that is on fire here in the U.S. While awareness is increasing, not everyone is familiar with "reuse." Re-using products can play a major role in saving energy for more important uses. For example, donating a bag of clothing to St. Vincent de Paul can generate $50 to $100, enough to help a neighbor who is struggling to pay rent for a month or get food for several weeks.
Many of us have way, way too much stuff, so much so that we don't know what to do with it. Unused clothing and household items gather dust in our closets and basements for years—and often ending up in a landfill. St. Vincent de Paul annually recycles
Reuse reduces the costs of making, shipping, and selling things, and helps keep items with life left in their product cycles out of garbage dumps and landfills. Finally, reuse decreases the demand for goods that are environmentally damaging to produce.
We publish a store calendar every month that is part of our Shop Page on this website. This calendar is a guide to help you navigate through our stores looking at items. To view the shop page click here.