Attend First-Ever Happy Paws Holiday Celebration!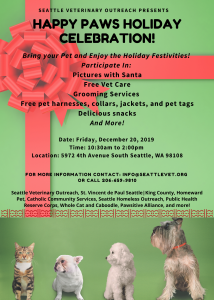 Plan to Attend the First-Ever Happy Paws Holiday Celebration!
St. Vincent de Paul and Seattle Veterinary Outreach are co-hosting the first-ever "Happy Paws Holiday Celebration", a very unique and special event on Friday, Dec. 20 from 10:30 a.m. to 2:00 p.m. The event will be held at St. Vincent de Paul in Georgetown at 5972 Fourth Avenue South.
This special event is open to the public so bring your pets for photos with Santa Claus, free veterinary care, grooming services, free pet harnesses, collars, jackets and much more.
"We support the right of all people, no matter their socio-economic status, to experience the love that exists between people and their pets. We believe that extending a hand of kindness to people in need by providing for their beloved pets will not only benefit them, but it will also benefit us all," said Hanna Ekstrom, DVM for Seattle Veterinary Outreach (SVO).
SVO has been providing pet care services for everyone in the community at the St. Vincent de Paul Georgetown Food Bank since September of 2019.
Groups participating include Seattle Veterinary Outreach, St. Vincent de Paul Seattle|King County, Homeward Pet, Catholic Community Services, Seattle Homeless Outreach, Public Health Reserve Corps, Whole Cat and Caboodle, Pawsitive Alliance, and more!
For more information, please contact: info@seattlevet.org or call 206-659-9810 or giving@svdpseattle.org or 206-686-5286.