Donate your gently-used clothing and household goods to St. Vincent de Paul of Seattle|King County and help our neighbors in need. Clean your closets and bring your donation to work and help us prevent homelessness, keep heat on and water running, and provide food security for our struggling neighbors.
March 26 & 27
6 a.m. to 2 p.m.
Starbucks Center

St. Vincent de Paul of Seattle|King County is an independent, 501(c)(3) non-profit organization, which offers person-to-person service to the poor and uses donations to support our Help Line, Home Visits, Food Bank, Case Management, and other social service programs. We serve everyone without exception. Donations are tax-deductible.
St. Vincent de Paul had it right over 400 years ago. We still have it right today.
Vincent believed we share an obligation to serve and help struggling neighbors. He devoted his life to that mission. He created a special group devoted to helping needy neighbors in small towns and villages. And the organization that carries his name, the St. Vincent de Paul Society, does it right today: Volunteers make home visits to needy neighbors, find out what they need, and then help them. The key to our success is thinking local. Money raised in King County, WA stays here to help neighbors in our communities.
Local

We are an independent 501(c)(3) organization.
We have been in King County since 1920. Money donated to us stays here.
We have over 50 neighborhood-based chapters all around King County.
Over 1,000 volunteers make over 12,000 face-to-face home visits annually helping people.
Our Help Line Call Center manages 45,000 calls a year from people needing help.
Efficient

We manage our money efficiently, with over 90 cents of every dollar donated going directly to programs to help people.
We have a Charity Navigator Four-Star Rating—highest rating available.
We received "Best Human Service Agency in Seattle in 2011."
We receive over 27,000 referrals from the Crisis 2-1-1 Line, more than any of the 1,700 social service agencies in King County.
Compassionate

We serve clients that come from every faith, race, color, creed, sex, and sexual orientation
SVdP programs serve over 200,000 people per year.
80% of the people we serve are non-Catholic. We serve everyone. Period.
Our volunteers and employees come from every faith, race, color, creed, sex, and sexual orientation.
Our case management programs help people create pathways toward self-sufficiency.
We help prevent evictions and utility shut-offs. Evictions often lead to homelessness, which costs communities hundreds of thousands of dollars per year.
Green

We have been a true pioneer and leader in recycling since 1926.
Our SVdPGREEN program recycles about 2,000,000 lbs. annually.
Goods in our thrift stores are resold instead of being thrown away.
We were an integral part of leading the "clean-up" of Lake Union in 1964, which then was a polluted mess.
Help & Hope Stories
The stories below are from people who were dealing with tragic situations and sought and received help from St. Vincent de Paul of Seattle/King County, thanks to the generous support of our donors.
Single Mom Turns Eviction Notice into a 'Get-Well' Plan
Donna, a single mom with two preschool children, couldn't pay her rent one month. Her landlord gave her an ultimatum – pay her full rent plus another $100 late fee in three days or face eviction. Working part-time while going to school, she used food stamps and temporary assistance to make ends meet, but this particular month, she came up $700 short. SVdP contacted the landlord to work out a late payment without the $100 in late fees. Our volunteers connected her with resources and helped her secure money to pay the rent in full. She now had a get well plan that included using her income tax return to help cover the next two months' rent until her lease expired. After that, she planned to move to less expensive housing to help her get on her feet.
And Then There Was Light for Juan and his Family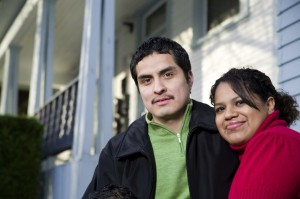 The call came late Friday afternoon to help a family whose power had been shut off for a week. The father, Juan, had been out of work for three months and couldn't speak English, which made it harder for him to know how to get help with restoring power. When SVdP heard the news, volunteers immediately called the utility to verify the disconnect and determine what it would take to get their electricity reconnected. The PSE representative told us to speak to a re-connection specialist, who wasn't available at the time, but returned our call, as promised, after hours. We took care of the utility bill. The specialist promised to have the power turned on within 24 hours. We worked with a Spanish-speaking member of Juan's church to share the good news with the young family. When one of our volunteers visited the next day to bring them food, the power came back on during the home visit.
Stranded & Then Connected
A disabled Veteran called SVdP for help when his electricity was disconnected. His service dog had recently been attacked by another animal, which led to large, unexpected veterinary bills. After taking care of his service dog, he did not have enough money to keep his lights on with his fixed income. Due to his disability, this Veteran uses a power wheelchair to get around and takes his insulin, which requires refrigeration. He was stuck in bed as a result of being unable to charge his wheelchair, until he called for help. SVdP got his electricity restored and he and his dog out and about again.
Connect with @SVdPSeattle on