The huge St. Vincent de Paul thrift store wall (188 foot long wall by 12 foot tall) white wall on 73rd Ave. NE is being transformed into the picturesque and elaborate Story of Kenmore. Named The Kenmore-St. Vincent Mural, painting of the mural begins in early May 2016 and concludes in early Sept. 2016.
The community grand opening mural event is Sept. 5 2016.
The Kenmore/St. Vincent Mural is a community collaboration involving the  artists A Gaul Culley and Staci Adman, the City of Kenmore, St. Vincent de Paul of Seattle|King County, Kenmore Heritage Society, and local community partners.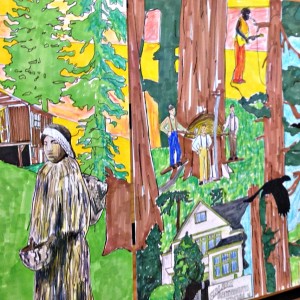 UPCOMING MURAL FUND RAISING
The Kenmore Mural Project at St. Vincent de Paul Ribbon Cutting Ceremony & Mural Dedication is
Monday, September 5, 2016 from 11 a. m.  – 2 p. m. | Ribbon Cutting At High Noon @ The Mural Wall
Refreshments Served At The
Kenmore Community Club.
7304 NE 175th St. Kenmore, WA
The Kenmore Mural at St. Vincent de Paul celebrates the "Living History" of the City of Kenmore, Washington
Join us for refreshments before the high noon formal ribbon cutting ceremony and dedication of the Kenmore Living History Mural. Artists A. Gaul Culley and Staci Adman will tell some of the cultural stories that inspired the images that make up the mural.
THE KENMORE MURAL AT ST. VINCENT de PAUL
The Kenmore-St. Vincent Mural celebrates and tells the story of the cultural history of Kenmore.  Our hope is that the mural will deepen the community's sense of place. We also hope it will contribute to Kenmore's 20-year vision of "a community that is inclusive and family friendly, with a small town feeling that fosters a sense of belonging and pride and supports local arts, culture and history.
The City of Kenmore and St. Vincent de Paul launched this project idea in the spring of 2015 and began working with the artists and other partners in the fall and winter of 2015-2016.Painting the mural had a May 1, 2016 start date with completion slated for Sept. 1, 2016 with a major "mural celebration" scheduled for Labor Day, Mon., Sept. 5, 2016.