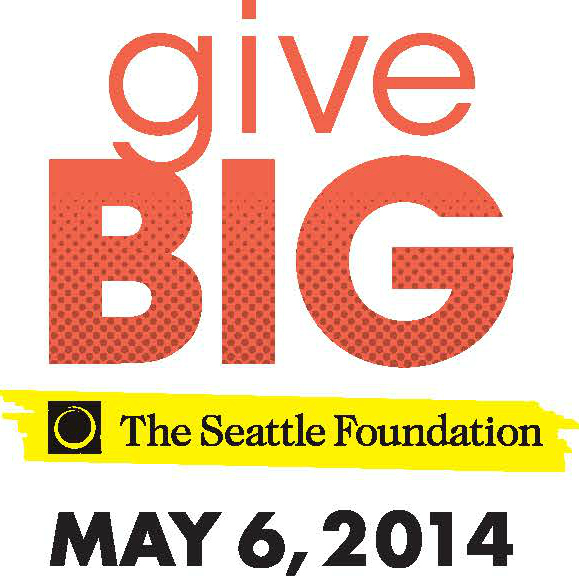 Help us ensure that our neighbors have the help they need, when they need it. Below are just a few stories from people who sought and received help from St. Vincent de Paul of Seattle/King County, thanks to donors like you.
You can make a big difference with a modest donation. Often, a $100 donation can keep a family in housing for a month, while a $25 dollar donation can help a family for a week, and a $10 donation can help with rent for a few days.
We receive hundreds of calls every week from families who no one else can help. In most of these cases St. Vincent de Paul becomes the "safety net beneath the safety net" because there is no one left to help them. We cannot allow these people to be left alone, without anyone to help them.
On May 6th, when you donate through Seattle Foundation's GiveBIG 2014 — a one-day, online charitable giving event to benefit nonprofits in our community – donations are stretched further thanks to The Seattle Foundation and GiveBIG sponsors, who will match a share of every contribution!
Sophia has been out of work for several months. Her unemployment only covers her mortgage, leaving nothing for utility payments at this time. She relies on her elderly mother's SSI check to pay every other bill and expense in the house at this time. It is not enough. The family was at risk of disconnection of their Seattle City Light service. They needed $192 to prevent disconnection. They were able to pay $92 and SVdP was able to pay the last $100 to prevent disconnection.
Lewis has been homeless for many years. He has worked with a case manager at Valley Cities Mental Health for the last two years. We got a call from his case manager at Valley Cities seeking assistance with move in costs for him. He was finally going to be getting his own apartment! SVdP was able to pledge $100 of the security deposit for him. He has moved into his new apartment and has made payment arrangements on the deposit balance. He was grateful for the assistance.
Lauren was approved for a new, affordable apartment downtown. She lives on her SSDI income and has nothing left at the end of the month. She was able to get funding for her deposit through another agency, and called us seeking assistance with the $30 she needed for prorated December rent. She would not be issued her keys without payment of this amount. SVdP pledged $30, and Lauren has moved into her new place. The best part is she now has a much more affordable rent and should get by a little easier.
Taylor is a single mom with two small children. She relies on the child support checks she receives as her only source of income. When they do not arrive, as has been the case the past two months, Taylor has no way to pay her rent. At $75 a month with her Section 8 voucher, her rent is affordable. She was behind two months on her rent when she contacted us. SVdP was able to pledge $115 to prevent eviction. Thanks to the support of donors like you, Taylor can continue to seek employment without worrying about keeping a roof over her family's head.
Felicity is a disabled, single mom with two teens. She supports her family with only her disability benefits. Her rent is about 70% of her income. Until she gets into some kind of subsidized housing, she struggles to get by. She was at risk of losing her power when she called us. We were able to partner with her to prevent service from being disconnected. She paid $108, and SVdP pledged $100 which together prevented disconnection.
Victor, a single dad, and his teenage son recently moved up from California. They have had their apartment for about three months now. When Victor's hours were cut at work, he found himself unable to pay their December rent. The balance needed to prevent eviction was $1319.05. Victor has no friends or family here in Washington. Full payment was required to prevent eviction, so we asked the local conference to partner with us to assist this family, which they did by pledging $500. SVdP pledged $399 and Victor was able to get a draw from his landlord to cover the rest. Because of monetary and goods donations, we were able to help this struggling family avoid eviction, just prior to being filed in the court system. Victor has since found a new job that is full time.
Christine contacted SVdP after her water was disconnected. Her family also had been served a notice to pay her electricity or be disconnected. She is a single mom who lost her job a few months ago when the transmission went out on her car and she could no longer get to work. She has 5 children. The family has a Section 8 voucher, so her rent is only $25, but she has no way to pay her utilities. Christine asked that SVdP assist her by paying her water bill to restore service, which we were able to do.
Layla is a single mom with a newborn baby. She was hired at a local retailer last week, but has yet to receive her first paycheck. She was late on her rent and was served an eviction notice. She had all but $100 of her rent/late fees. St. Vincent de Paul was able to pay the last amount she needed to prevent eviction.
Rachel is 40 weeks pregnant and has two small children. She works full time but only earns a couple hundred dollars more than her $800 rent each month. Rachel is getting ready to go on unpaid maternity leave for 6 weeks and already has very little to live on at this time. She had received a disconnect notice for her power, and needed $235 to prevent shut off. She paid $135 and SVdP was able to pay $100 to prevent disconnection, thanks to donors like you.