The St. Vincent de Paul of Seattle/King County's Aurora Health and Social Services Center is a newly-constructed addition to SVdP's existing Aurora retail thrift store. The thrift store is an effective location in which to expand needed SVdP's social and healthcare services to low income families because of its convenience for clients. The Aurora Health and Social Services Center provides 1,800 square feet of offices and patient rooms for services. The construction of case management and healthcare offices was complete in December 2014. Once the sidewalks and landscaping are installed, the Center will be complete.
The long-term goal of St. Vincent de Paul's Aurora Health and Social Service Center is to assist low-income individuals in a way that is respectful and compassionate to achieve health and self-sufficiency. With your support, St. Vincent de Paul of Seattle/King County specifically will:
Construct a safe sidewalk outside the facility, including two ADA ramps for people with disabilities and mobility issues
Install simple, attractive landscaping outside the entrance to the Aurora Health and Social Service Center to make it welcoming to clients and patients, as required by the city
Provide long-term case management services in the Center, assisting 30 low-income clients with multiple barriers to work toward self-sufficiency in 2015 and 50 clients annually thereafter
Provide healthcare services to approximately 970 low-income clients in 2015 and 1,500+ annually thereafter
What We Need
St. Vincent de Paul is asking for your help to raise $42,979 to fund this sidewalk construction project. After soliciting and reviewing four bids from different contracting companies, we selected a contractor which would remove existing material, provide crushed rock, pour concrete curbing and gutters, broom finish, and include 2 ADA ramps down to the street level. Landscaping would include creating beds of mulch and compost, and include six trees and 217 ferns.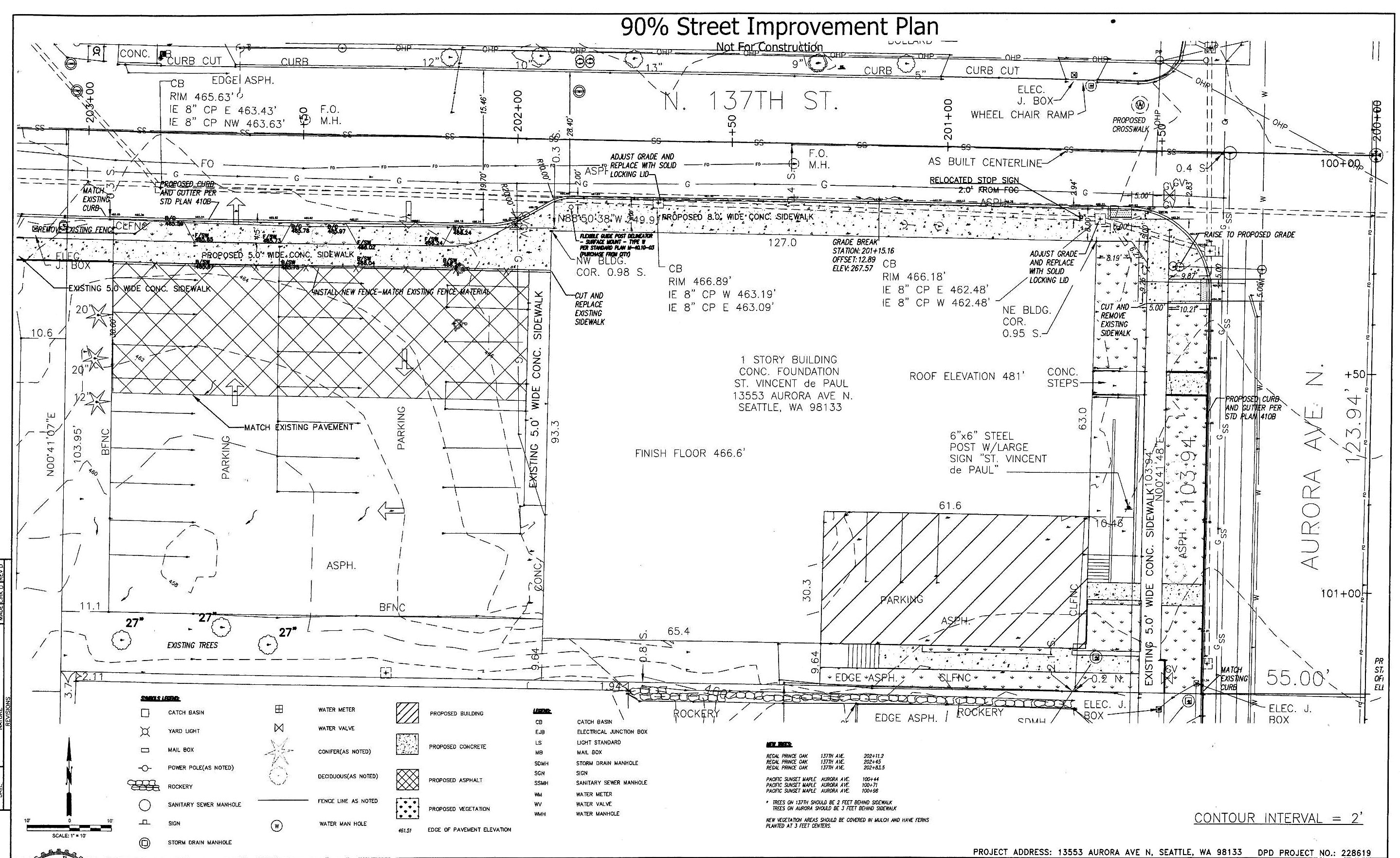 Your Donation Matters
With your help, St. Vincent de Paul can use funds that we would have to spend on this project to provide direct assistance to people in emergency situations. Here are some examples of how this saving can be reallocated:
$10 can buy an ORCA transit card and a round-trip on the Metro bus system.
$25 can buy a gas card to help a struggling neighbor get to work.
$50 can buy a Safeway card to help a family make it through the week until payday.
$100 can pay a past due utility bill and prevent electricity shut-off for a family.
$250 can pay a month's rent and prevent homelessness for a struggling family or individual.
$1,000 can provide Case Management services for one person for a year.
If this campaign is not successful, we will have to use our limited financial resources to pay for this construction, taking away from those in need.
The Impact
St. Vincent de Paul of Seattle/King County (SVdP) strives to serve everyone, regardless of their religious affiliation. SVdP is a local, independent, 501(c)(3) non-profit charitable organization which for the past 95 years, has assisted people in poverty by organizing groups of volunteers to visit homes and provide emergency assistance in Seattle and King County. SVdP volunteers made 12,435 home visits in FY14, distributed over $2,000,000 in rent and utility funds to prevent eviction and utility shut-off, and provided food, clothing and furniture to 82,000 people in need. Additionally, SVdP provided services to another 66,000 neighbors in need through our food bank, case management, and Centro Rendu programs.
St. Vinnie's has expanded services into an area of high need with the addition of the new SVdP Aurora Health and Social Services Center in the Aurora neighborhood of north Seattle. The Center began assisting low income individuals in November 2014 with primary care health services (provided by our partner, Neighborcare Health), and expects to provide approximately 1,000 people with case management services and healthcare in 2015. The number of clients assisted is expected to grow during the first years of operation.
The purpose of co-locating social services with the thrift store is to provide services close to where low income people live. Providing case management and healthcare adjacent to the thrift store saves people with low incomes time and money in transportation. Providing both case management and health services within the Aurora location creates an integrated intake, case management and referral system that is conveniently located, allowing potential clients easy access to services.
Knowing that poor health outcomes have been found to be closely linked to poverty, SVdP began providing free health assessment services to South Seattle Food Bank clients in 2012. SVdP built upon this experience by launching a partnership with Neighborcare Health to provide free and low-cost health care to people in poverty at the Aurora Health and Social Services Center. A Neighborcare medical team provides preventative medical care two days per week, and plans to expand to three open days per week by the end of 2015.
SVdP's case management services target individuals who seek to overcome systemic and personal barriers to self-sufficiency. Case Managers work one-on-one with homeless and low-income people for 6-to-18-months to overcome barriers such as unemployment, histories of addiction or incarceration, mental illness and lack of affordable housing, by applying evidence-based Cognitive Behavioral Therapy (CBT) practices, when applicable, in a caring environment. Case managers provide one-on-one weekly meetings in order for clients to reach their Action Plan Goals (employment, education, stable housing, family reunification and sobriety). All case management services are free of charge.
Donate to This Campaign
St. Vincent de Paul helps 150,000 people in King County every year through our Home Visits, Helpline, Food Bank, Centro Rendu, Operation Veteran Renewal and Case Management. If you would like to support this project, please click here to make a tax-deductible donation to St. Vincent de Paul or send a check to:
St. Vincent de Paul
Attn: Sidewalks at Aurora
5950 4th Ave S.
Seattle, WA 98108
Other Ways You Can Help
We understand that not everyone can make a financial donation. Here are some other ways you can help:
•   Follow @SVdPSeattle on Facebook, Twitter, Pinterest and Instagram
•   Donate your gently-used clothing, furniture, and household goods
•   Shop at our five King County thrift stores, which support our programs
•   Share this campaign with your friends and family