Un Vistazo Rápido del Centro Rendu/A Quick Snapshot of Centro Rendu   
El Centro Rendu es un nuevo programa que ha comenzado San Vicente de Paúl de Seattle/ King County para comunicarse y proveer servicios a la comunidad hispana en el Condado de King.
El Centro Rendu es un elemento clave de nuestro primer Centro Comunitario de San Vicente de Paúl para Servicios Sociales.
Nuestro primer centro de servicios y la oficina del Centro Rendu estarán localizados en la Tienda de San Vicente de Paúl de Artículos de Segunda Mano en la  310 Central Ave., Kent, WA.
Centro Rendu is a new program started by St. Vincent de Paul of Seattle|King County to communicate with and provide services to the Hispanic Community in King County.
Centro Rendu is a key part of our first St. Vincent de Paul Community Social Service Center.
Our first service center and the Centro Rendu office will be at the St. Vincent de Paul Thrift Store located at 310 Central Avenue in Kent, WA.
Misión para el Centro Rendu /Mission for Centro Rendu
Con paciencia desarrollaremos confianza y credibilidad con la comunidad hispana.
Mediante un proceso de escucha atenta y solícita proveeremos un sistema sencillo y confiable de servicios en nuestra tienda comunitaria de SVdP que represente las verdaderas necesidades de nuestras familias e individuos hispanos y proteja la dignidad humana de la mayoría de los necesitados y marginados.
We will patiently build trust and credibility within the Hispanic community.
Through a gentle and caring listening process, we will provide a simple and reliable system of services at our SVdP community store that represents the authentic needs of our Hispanic families and individuals and protects the human dignity of the most needy and underserved.
Luz Maria Pardo: A Client in the Centro Rendu Program

Acerca del Nombre/About the Name
El Centro Rendu lleva el nombre en honor de la Beata Rosalía Rendu, una Religiosa católica francesa que vivió del 1786 al 1856.  Se dedicó por más de cinco décadas a servir a los pobres durante y después de los estragos de la Revolución Francesa.
Ella trabajaba con amabilidad y su caridad era inventiva. Comenzó una clínica de salud, una escuela, una farmacia, un orfanato y un centro para cuidado de niños.
Fue consejera y guía de muchos estudiantes que estaban comenzando organizaciones en París a principios del siglo 18, uno de los cuales fue Federico Ozanam, el fundador de la Sociedad de San Vicente de Paúl.
Trabajó incansablemente, a veces hasta el punto de quedar enferma de trabajo excesivo y agotamiento.  Sirvió a los pobres con profunda convicción y nunca les abandonó.  Sacaba sus fuerzas de una vida de oración intensa y su habilidad de ver a Cristo en todas las personas.
Su trabajo verdaderamente personificaba el concepto de cambio sistémico.  Ella creía que servir al pobre requería más que proporcionarle dinero en efectivo o  cosas materiales. Ella decía: "Debemos aspirar a un beneficio más completo y más duradero: estudien sus habilidades, su nivel de educación, y ayúdenles a obtener un trabajo con el que puedan salir de sus dificultades."
Centro Rendu is named in honor of Blessed Rosalie Rendu, a French Catholic Sister who lived from 1786 to 1856. She devoted over five decades serving the poor during and after the ravages of the French Revolution.
She was an advisor and mentor to many students starting organizations in Paris early in the 18th century, one of whom was Frederic Ozanam, the founder of the Society of St. Vincent de Paul.
She worked with compassion and her charity was inventive. She started a health clinic, a school, a pharmacy, an orphanage, and a child care center.
She worked tirelessly, often to the point of ill-health, from overwork and stress. She served the poor with deep conviction, and never abandoned them. She drew her strength from intense prayer and the capability to see Christ in everyone.
Her work truly embodied the concept of systemic change.
She believed that serving the poor required more than providing cash or in-kind assistance. She said: "We must aspire to a more comp
lete and longer lasting benefit: study their abilities, their level of education and help them get work to help them out of their difficulties."
Estrategias Organizativas/Organizational Strategies
Nuestro modelo de servicio inicial tiene dos enfoques principales, (1) Comunicación y  Compromiso y (2) Servicio de Apoyo.
Our initial service model has two primary directions, (1) Communications & Engagement and (2) Service Support.
Comunicación y Compromiso/Communications and Engagement
Mantendremos con esmero una red de comunicación para motivar el compromiso de familias hispanas, individuos, organizaciones y a la comunidad en general a fin de comprender y responder mejor a las necesidades, las barreras, y las esperanzas de las personas y de las familias hispanas.
We will thoughtfully network to engage Hispanic families, individuals, organizations and the larger community to better understand and respond to the needs, barriers, and hopes of Hispanic individuals and families.
Servicio de Apoyo/Service Support
Dentro del Centro Comunitario de San Vicente de Paúl para Servicios Sociales nosotros:
Nuestro plan es construir sobre las bases de las relaciones de confianza que establecemos en las visitas a domicilios y ampliar esa ayuda en servicios dentro de las tiendas de ahorros.
Proporcionaremos un sistema de admisión y evaluación que incluya referidos a lugares apropiados de servicios comunitarios.
Ofreceremos administración de casos en español.
Comenzaremos un centro de enseñanza para familias y adultos que se convertirá en un lugar donde todos puedan venir a aprender más sobre una variedad de disciplinas, en un ambiente de acogida y atención en el que todos sientan confianza.
Hemos delineado una serie de servicios que estamos considerando hacer disponibles por etapas durante un periodo de tiempo.  Los servicios incluyen:
Administración y seguimiento de casos en español (SVdP)
Cursos de alfabetización en español y educación primaria para hispanohablantes
Cursos de ESL (inglés como segundo idioma) y preparación para el GED (examen de equivalencia de estudios de escuela secundaria)
Conocimientos de computación
Ofrecer consulta legal, incluso a personas indocumentadas
Camino hacia la ciudadanía (clases, información y referidos cuando sea necesario)
Proporcionar apoyo a las familias y referir para consejería, cuando sea necesario
Servicios para jóvenes (apoyos educativos y desarrollo de liderazgo)
Desarrollar e implementar círculos de justicia para mujeres
Desarrollo de liderazgo y espiritualidad vicentina
Within th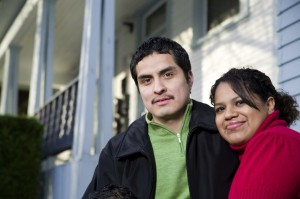 e St. Vincent de Paul Community Service Center space we will:
Our plan is to build upon the trusting relationships we establish in home visits, and extend that help into services in our stores.
Provide an intake and assessment system that includes referrals to appropriate community service sites.
Provide case management in Spanish.
Begin a Family Adult Learning Center that will become a place where everyone can come to learn more about a variety of disciplines in a welcoming and caring environment that they trust.
We have outlined potential services we are considering to phase in over a period of time. Services include:
SVdP Case Management in Spanish.
Spanish Literacy Courses and Primary Education for Spanish speakers.
English as a Second Language (ESL) and GED preparation.
Computer literacy.
Provide legal consultation, to include undocumented persons.
Path to citizenship (classes, information and referrals when appropriate).
Provide family support services and counseling referrals when needed.
Youth Services (educational support and leadership development).
Develop and implement Women's Justice Circles.
Vincentian Spirituality and Leadership Development.
Centro Rendu
Kent Thrift Store
310 Central Ave. N.
253.499.4245
centrorendu@svdpseattle.org