Who:  Veterans, Neighbors and Landlords
What:  End Veteran Homelessness
Where: King County
When: Dec. 31, 2015
Why: We need Veterans, neighbors, landlords and officials to share our vision of a King County where Veteran homelessness is rare, brief and only temporary! Operation: WelcomeOneHome is a coordinated community call to action to build upon the existing work performed in our community to effectively end Veteran homelessness this year.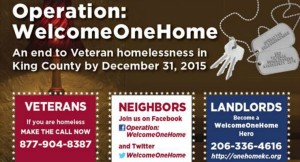 Seattle/King County is making significant progress toward ending Veteran homelessness by December 31, 2015. Our community has permanently housed 604 formerly homeless Veterans so far this year; an average of 2 Veterans per day!
Despite these accomplishments, we have hundreds more Veterans in our community that need our assistance, many of whom have the resources to move into permanent housing, but struggle to secure a place to call home in our highly competitive rental market.
How is the ST. Vincent de Paul Operation Veteran Renewal program (OVR) going to assist with this important challenge.
Our Operation Veteran Renewal (OVR) has joined forces with federal, state, county and other non-profit groups to screen Veterans who are homeless. We will meet them wherever they may be, e.g. near a thrift store or in a tent city. After screening Veterans the information is passed along to Safe Harbors where Veterans are assigned the best resources involving the fewest possible steps. During this search the Veteran stays connected with OVR, where they can access the food bank and ensure that they have someone to talk to about their situation and any changes that may be taking place.
As a part of the call to action there are 160 Veteran Housing Vouchers (VASH ). There are also another 123 shoppers that have temporary financial assistance and short term case management. At this time, they are unable to secure affordable permanent housing in King County.