Best Starts for Kids Grant–Centro Rendu!
Best Starts for Kids, a King County government program designed to help put every baby born and every child raised in King County on a path toward lifelong success, is partnering with the St. Vincent de Paul Centro Rendu program along with the Somali Health Board with grants to help parents with early childhood development tools.
The partners will host listening sessions, focus groups, and other community engagement programs to hear from parents, caregivers, and community members about the best ways to implement concepts from Vroom. (Vroom offers a set of tools and resources designed to inspire families to turn everyday moments into "brain building moments" by layering activities that are essential to healthy brain development onto existing routines.)
Best Starts for Kids is making research based on the latest neuroscience available to all parents and caregivers so that every child and youth in our region has the opportunity to achieve their full potential.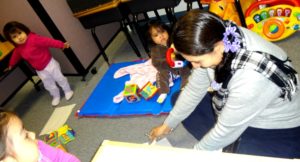 In addition to language adaptation, partners will provide recommendations to culturally translate Vroom tools, such as changing visuals to better represent these communities or adapting music-based tips to reflect the instruments used in that culture. Both the Somali Health Board and Centro Rendu will receive $75,000 over one year in combined funds from Best Starts for Kids and the Bezos Family Foundation.
Vroom was developed with input from early childhood experts, neuroscientists, parents, and community leaders, as well as the Center on the Developing Child. Vroom tips turn brain-building science into simple, easy to use tips that parents and caregivers can incorporate into their everyday lives
"By partnering with VROOM, Centro Rendu will develop further culturally responsive approaches to support early childhood development along with authentic family engagement practices," said Mirya Munoz, Assistant Director of St. Vincent de Paul of Seattle & King County.  "This new funding from Best Starts for Kids offers St. Vincent de Paul the opportunity to further support our Latino families and have great, lasting impact in our community. We are very excited and grateful for this opportunity!"