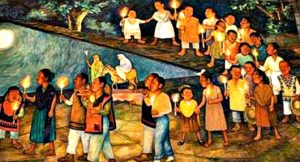 Join us on Friday, Dec. 9th in Kent for the Second Annual St. Vincent de Paul Posadas Event. We held an event last Friday at our Renton thrift store. These events are supported by the Molina Foundation.
The Kent Posada Event will be held from 5 p.m. to 7 p.m. at our Kent St. Vincent de Paul thrift store at 310 Central Avenue North in Kent. The Posada is a Latin American tradition designed to celebrate the Christmas spirit.
We encourage you to come, participate and get in the Christmas spirit as well as learn more about the good work done through our Centro Rendu program in Renton and Kent. The first 200 household guests are guaranteed one gift bag at each event. Guests are encouraged to shop at our stores. Shoppers will receive a 10% discount if they mention "Posada" at the register when making purchases. We look forward to seeing you! Here is a link to more information on Posadas. For more information review the POSADAS OVERVIEW here.